Caring for the needs of your Special Eyes!
Eye Care 

Specialists

 is a state-of-the-art practice that initiated multi-specialty ophthalmology in Southeast Missouri. Ophthalmologists of our practice collaborate in the area of complex ophthalmologic conditions that warrant the expertise of physicians and subspecialists.

Eye Care 

Specialists

 is progressive in being high-tech, while preserving a service-oriented focus in "caring for the needs of your special eyes."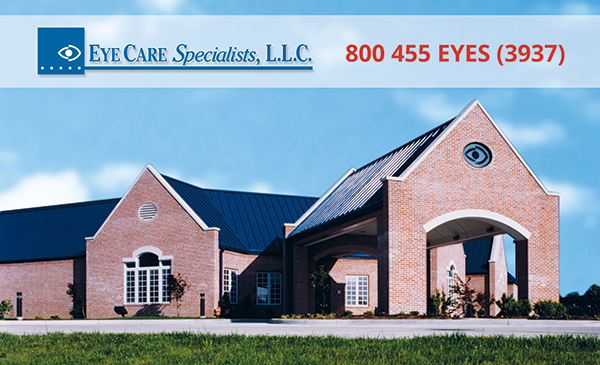 A Brief History of Our Practice
Cape Retinal Surgery Center
David J. Westrich, MD, FACS returned to his hometown of Cape Girardeau, Mo. after completing his vitreoretinal surgery fellowship in Nashville, Tenn. In 1991, Dr. Westrich founded Cape Retinal Surgery Center, a practice specializing in vitreoretinal disease and surgery.
Cape Retinal Surgery Center added Low Vision services in 1992 with the association of Michael Katich, OD. Dr. Katich's skills in prescribing low vision devices helped maximize our services to patients with low vision due to retinal eye disease.
The practice quickly grew from a retinal office to a multi-specialty ophthalmology practice in 1998 with the addition of fellowship-trained surgeons and satellite locations in three states (Missouri, Illinois, and Kentucky). The name was changed to Eye Care Specialists to encompass the various divisions of clinical ophthalmology specialization.
Eye Care
Specialists
The specializations of Eye Care Specialists expanded to include corneal conditions, glaucoma, cataract surgery, and LASIK laser vision correction in 1998 when corneal and refractive specialist, D. Shawn Parker, MD, FACS, moved to Cape Girardeau from Kentucky to join the practice.
Services were further extended, both clinically and geographically, when general ophthalmologist, Brad Stuckenschneider, MD, FACS, joined the practice in 2003 and became director of a new facility in Poplar Bluff, Mo.
Eye Consultants, Inc.
Eye Care Specialists saw significant growth in both physicians and services most recently with the integration of Eye Consultants, Inc. In 2018, general ophthalmologists, Todd Lumsden, DO, FAOCO and John Kinder, MD, FACS, became partners of Eye Care Specialists. Combining expertise, skills, and technology not only enhanced our wide-range of services, but also the areas we serve by adding locations in Perryville, Mo. and Dexter, Mo.
In addition, the Eye Care Specialists and Eye Consultants, Inc. union has also enhanced specialty services we offer through the association of retinal specialist, T. Kim Krummenacher, MD and oculoplastics specialist, Byron Santos, MD.
Our Patients Are Our Focus!
Our continued growth facilitates our mission to provide the highest quality of specialized and comprehensive eye care to patients in a caring, personalized, and service-oriented environment across the tri-state area.
We desire that our quality of care, patient education, and our full suite of services including retinal surgery, cataract surgery, LASIK, glaucoma treatment, and oculoplastics allow you think of
Eye Care

Specialists

as the first and best option for your specialized eye care.
Nothing is more important than your eyesight…that's the way the doctors of

Eye Care

Specialists

see it!

Our Patients Say It Best:
"From the first time I called to the day after the procedure, all of the staff made me feel more secure in my decision to place my vision in your hands."
-Stephanie M.
"Thank you so much for the great care and service I've been given before, during, and after my LASIK. In this day and age it's great to know that "customer service" is not a thing of the past!"
-Angela O.
"From the time we entered the building until the time we left, everyone was friendly, courteous, and willing to answer all my questions."
-Jim B.
Patient Feedback
"The best way to find yourself is to lose yourself in the service of others."
-Mahatma Gandhi
At Eye Care Specialists, we do not just want to meet your expectations but exceed them. If we fell short, please let us know so we are aware we need improvement. If we did something great, we of course love to hear those experiences as well to know we are on the right track! Please share your experience with us using the contact form to the right.
Thank you for choosing Eye Care Specialists!

Caring for the needs of your SPECIAL EYES!